Excel vba unlock workbook without password. Unprotect Worksheet Macro With Password 2019-05-19
Excel vba unlock workbook without password
Rating: 9,5/10

558

reviews
Unlocking a Worksheet with an Unknown Password (Microsoft Excel)
When you unprotect and Excel 2016 spreadsheet, it will allow you see and modify the document without experiencing any restrictions. Even select the cells and ranges. The whole process is very fast! Finally you can easily open the file with the recovered password. After, finishing the procedure you will get a message containing the actual password for the locked Excel Document. If you make changes to workbook 1, workbook 2 will update. Save the workbook and close. The default value is False.
Next
How to unlock Protected Excel VBA Project and Macro codes without password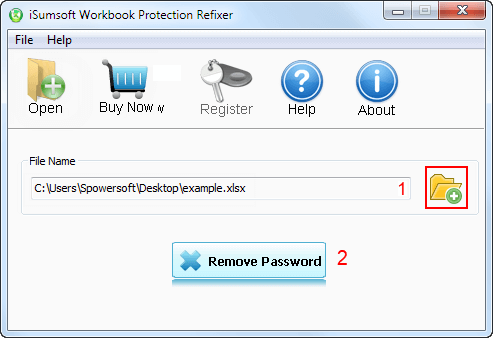 I need to unlock the actual workbook since when I say file open and select the workbook to open, it asks for the password at that point of entry, without it you cannot even open the workbook itself let alone see or get to any of the sheets, at all. All the information will be opened into a Notepad. Just 2 second, all the file password will be removed without losing data, you can open it and check. Because it has attracted low-quality or spam answers that had to be removed, posting an answer now requires 10 on this site the. This particular software was designed for this purpose only! If we mention it as True that means protect the workbook windows. Right-click with your mouse on the worksheet name then click on Insert followed by Module from the given options. Now, you will see a new window where you will be required to paste the following code.
Next
Unprotect an Excel spreadsheet if you have lost your password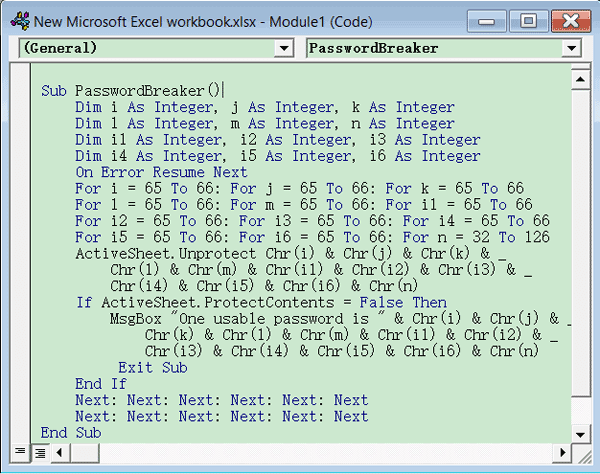 Can that be the reason why I cannot un-zip the file after I changed the file extention? Just type the the right password to unprotect workbook password. Once it succeeds, the loop will terminate and will provide you an alternate password. Now this article would introduce three effective methods to while excel file is protected by open password or modify password. Step 2: Select the cell A1, and press Shift + Ctrl + End. The protection of key worksheets and information within in an Excel workbook can be very important to ensure the data integrity of a spreadsheet. So what do you do if you have lost the password to unprotect an excel workbook or worksheet? I am generally very good and careful with my passwords.
Next
Unprotect Worksheet Macro With Password
The methods are very detailed; the first one is all about the most effective third-party tool ever designed. So, if the users could enter the correct password, then he can review the content in the entire workbook. You do not need to remember the fake password or enter it anywhere to verify. Just do any of the following: Step 1: First, you need to open the Excel file. Here are the simple steps to do this. It is all encrypted, and can sync safely between your devices via DropBox or other cloud service.
Next
Unprotect an Excel spreadsheet if you have lost your password
Then, go over to workbook 1 and click on cell A. A user can option any of these methods as per their convenience. Step 1: Double click your encrypted Excel file, it will ask for the password. However, when I type in the password it works just fine. Now, press Alt + F11 keys. Simultaneously press Alt + F11 to open the Visual Basic Editor. There are three types of attacks which are Brute-force Attack, Brute-force with Mask and Dictionary Attack.
Next
How to unprotect excel sheet without Password
And according to what it can do, we call it. Our aim is to create innovative tools and dashboards for analyzing the data. Also if there are external links in the worksheet from which you copied, you may have to rebuild those links. Enter a Password and Click ok. Open new Microsoft word file.
Next
How to Unprotect an excel sheet without password
Unfortunately, there is no quick and simple way for your to view or recover a lost password. The data is now linked. It can unlock any Excel file. Evening Rajan, I had a flashdrive on which I stored all my passwords for different files. To request our help, please click the following link: Continue the Discussion Have you had to unprotect a password protected spreadsheet? Save my name, email, and website in this browser for the next time I comment. Overall, Excel Password Recovery is a clear winner! If you have ever forgotten a password for one of your excel worksheets you know how frustrating that can be. You may not clear that securing Workbook data is a tiered process which offers several levels including the file encryption, editing restrictions and printing restrictions.
Next
Unprotect Worksheet Macro With Password
If you also , go to. Also Read: Unlock Protected Excel Sheet Without Password This code is not something that I invented. One would hope that in a corporate environment, they'd be against storing passwords in a spreadsheet, but I digress. Remove all the tags of the password protected excel sheets and excel workbooks, and save it. In the Review menu tab click Unprotect sheet. Are you struggling with finding a method to? These passwords are certainly a great way of protecting and hiding workbooks for security reasons. You can choose any one that fits your requirement.
Next
Unprotect Excel Sheet/Workbook/Spreadsheet/Worksheet without Password
You can use this Worksheet Protection password, only to prevent accidental updates happening to an Excel Workbook. After installing Kutools for Excel, please do as follows: 1. Before removing the tag After removing the tag Step 9 Now go back to the path shown in the step 5. The steps are discussed below in details: Step 1: Download and install Excel Password Recovery on your computer. One is manual and another one is using a third-party tool.
Next